WECU
Amplifying a brand to increase member acquisition and retention through strategic campaigns
Services:
Web
Digital Marketing
Strategy
Video
Media
Creative Services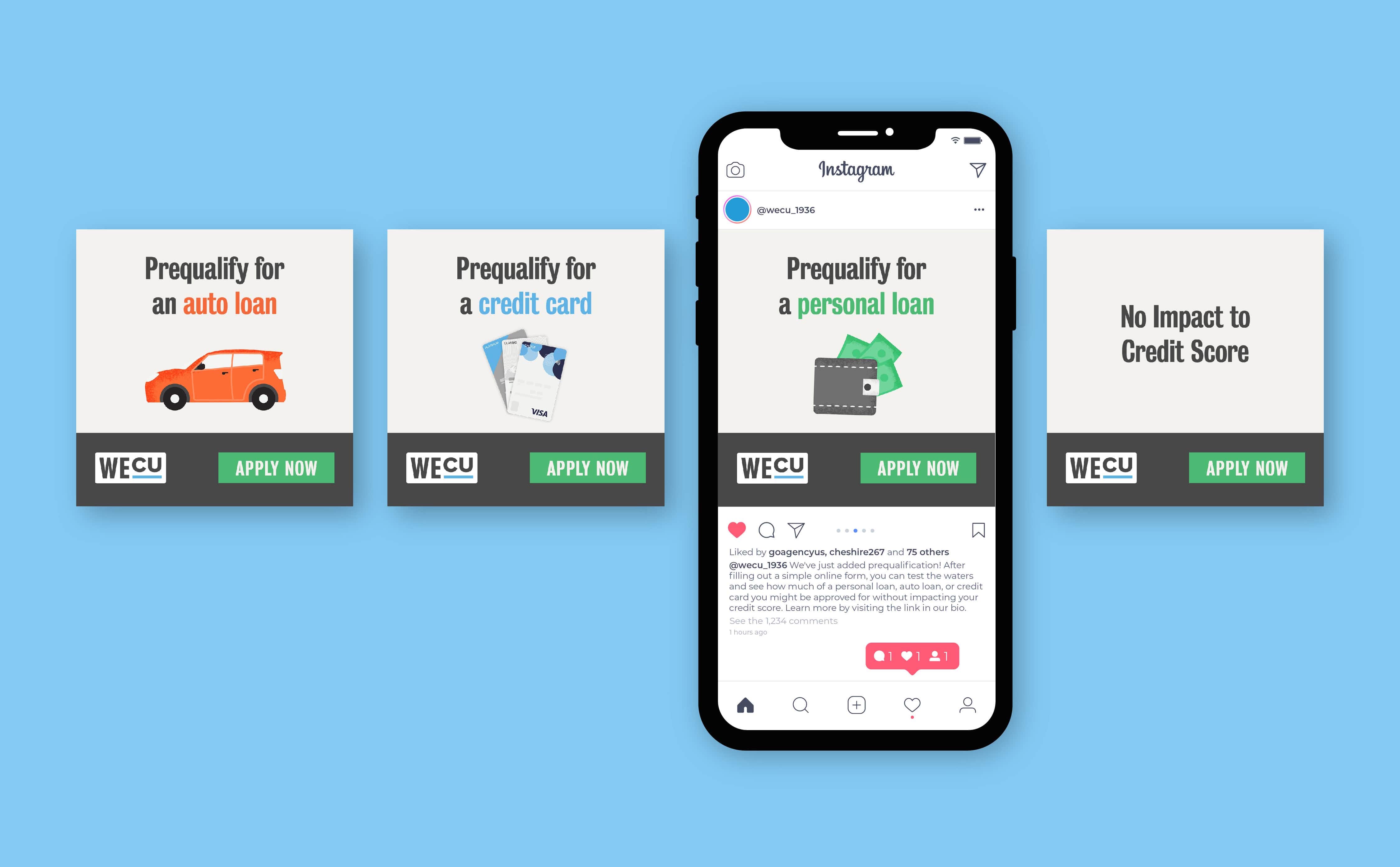 Overview
Member acquisition and retention are top priorities for WECU, a not-for-profit credit union serving individuals and businesses throughout Washington state. Unlike many big banks, WECU's unique selling proposition focuses on making a meaningful difference in the lives of the members they serve. However, the organization still needs to convey they offer competitive products, services, resources, and tools to attract new members and maintain current member satisfaction, ultimately providing a trusting and safe environment where members can achieve their financial goals.
Our Approach
GO provides WECU with a wide variety of services, from website design to billboards, digital displays to commercials, and more. Each deliverable ultimately works toward increasing awareness and consideration for WECU products, promotions, and offerings – such as checking accounts, savings accounts, youth accounts, competitive home loans, HELOC products, and various credit cards. GO strategically develops these initiatives to drive membership growth and retention, delivering a seamless experience across all channels. Through strategic, targeted, and data-driven media plans, thoughtful and innovative campaign concepts, and optimized landing pages built for conversation, GO works collaboratively to bring a unique and personalized 360-marketing approach that meets WECU's quarterly membership goals and increases overall awareness.
highlight
GO helped WECU launch its new luxury credit card, WECU Lux Visa. Leaning into the credit card's value proposition of "Doing What You Love and Getting Rewarded," GO developed a captivating :30 commercial, a strategically targeted media plan, and a cohesive landing page. These elements worked together to take the audience on an engaging journey while highlighting the new card's features and benefits.
Redesigned for Better Conversion
The goal of the WECU home page redesign was to improve the overall member experience and shift the emphasis of the site from brand awareness to sales in order to drive more buyer discovery and engagements. Through best UI and UX practices, we aimed to boost conversion, strategize the user journey for new and existing members, streamline the visual web brand, and facilitate user interaction.

The results are in
After the launch of the campaign, the year over year statistics below speak for themselves.
impact
47.7%
Avg Session Duration up
The GO Team is organized, collaborative, and agile. They manage our high volume of campaign needs, website design and development requests, while staying on-brand and on track for launch. They are truly an extension of our Marketing team.